National Colloquium on Malaysia's Chairmanship of ASEAN 2015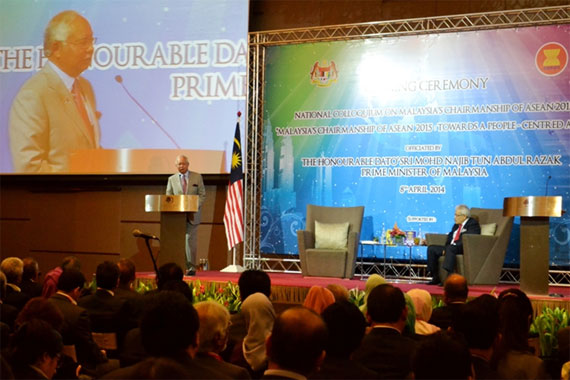 From 8 to 10 April 2014, the Ministry of Foreign Affairs in collaboration with Institute of Diplomacy and Foreign Relations (IDFR), Universiti Teknologi MARA (UiTM) and Institute of Strategic and International Studies (ISIS) Malaysia hosted a National Colloquium on Malaysia's Chairmanship of ASEAN. Participants of the Colloquium were various stakeholders from the government sector, practitioners, academicians, think tanks, civil society organisations, the youth groups, members of the media and experts in ASEAN affairs.
The Prime Minister of Malaysia, Dato' Sri Mohd Najib Tun Hj. Abdul Razak officiated the Colloquium and delivered a Keynote Address. In his address, the Prime Minister shared his assessment, views and vision related to Malaysia's Chairmanship of ASEAN in 2015. Malaysia has identified the creation of a truly 'People-Centred ASEAN' as the central element of its Chairmanship of ASEAN in 2015. The establishment of ASEAN Community in 2015 will further strengthen regional integration and cooperation which reflects on ASEAN's readiness to contribute positively to global affairs.
Throughout the three-day event, participants were engaged in various sessions delivered by prominent speakers. Dato' Hussin Nayan, the Director General of IDFR moderated a session titled "ASEAN Outlook: Re-assessing the Pillars Approach and How Malaysia Can Take A Proactive and Constructive Leading Role as Chair of ASEAN in 2015". Speakers for the session were Dato' Sri Mustapa Mohamad, Minister of International Trade and Industry, Dato' Muhammad Shahrul Ikram Yaakob from the ASEAN-Malaysia National Secretariat and Datuk Hj. Ab. Ghaffar A. Thambi from the Ministry of Tourism and Culture. Other sessions included theme related to community building, youth, security and economic matters.
The Colloquium proved to be a constructive event where various proposals, comments and observations were shared based on enthusiastic responses received from participants. In his closing remarks, Datuk Othman Hashim, the Secretary General of the Ministry of Foreign Affairs assured that the Ministry will continue to engage the stakeholders and expressed that coming together is a beginning, keeping together will be a sign of progress and working together will surely lead to success.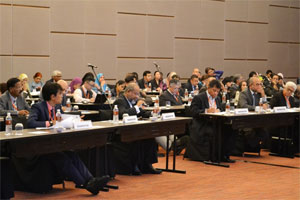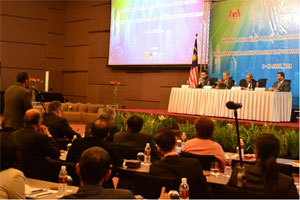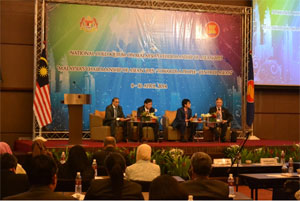 Reported by: Zanariah Abdul Malek
Academic Studies, Research and Publication Division