Book Launch: 'A UN Chronicle'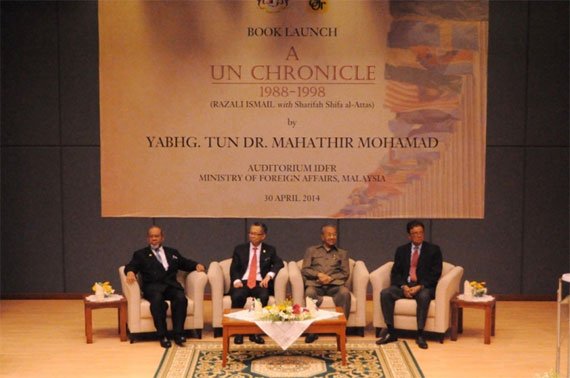 The Institute of Diplomacy and Foreign Relations (IDFR) is pleased to announce its latest publication titled 'A UN Chronicle' by Razali Ismail(Tan Sri) with Sharifah Shifa al-Attas. It chronicles his years at the United Nations(UN) beginning his appointment as Malaysia's Permanent Representative to the United Nations until his tenure as the UN Secretary-General's Special Envoy to Myanmar from 2000 to 2005.
In this book Tan Sri Razali Ismail examined his years at the UN during a time when multilateral diplomacy struggled to find relevance towards the end of the Cold War and after. Tan Sri Razali described how Malaysia fought its diplomatic battles and also provided new revelations into the goings-on, as well as describing in fresh detail aspects of leadership at the UN as reflected in his own presidency of both the Security Council in 1989 and the General Assembly from 1996 to 1997. In so doing, he revealed the roles played by Malaysia on a number of key issues that emerged at that time.
The book was launched on 30th April 2014 by Tun Dr. Mahathir Mohamad at IDFR. The event was hosted by the Secretary General of the Ministry of Foreign Affairs, Datuk Othman Hashim and attended by officials from the Ministry, diplomatic corps, various government agencies, universities, various associations, private sector and members of the media.
In his impromptu speech, Tun Dr. Mahathir voiced his support for Tan Sri Razali's effort in writing the book with the aspiration that the dialogues and discussions on the UN reforms and changes be galvanized for a better future. He acknowledged that it was a very challenging task due to the structure of the UN itself and the fact that "people in power loathe to give up power".
Tun Dr. Mahathir also reminisced the days when he delivered his speech at the UN as a delegate and described Tan Sri Razali as someone who always delivered. He hopes that Tan Sri Razali's book will be a useful reference for everyone and wittily expressed his outlook on the book.
'A UN Chronicle' retails at RM100.00 and is available at IDFR. For further inquiries, kindly contact us at 03-2149 1043/1044/1160.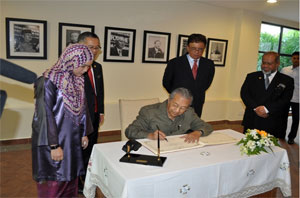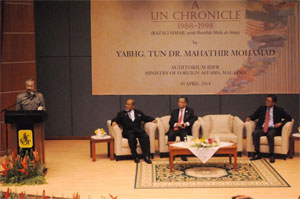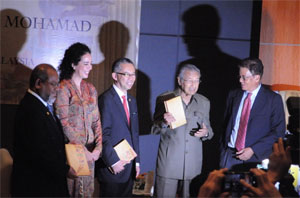 Reported by: Zanariah Abdul Malek
Academic Studies, Research and Publication Division