Friday Morning Session: "Aspects of Protocol"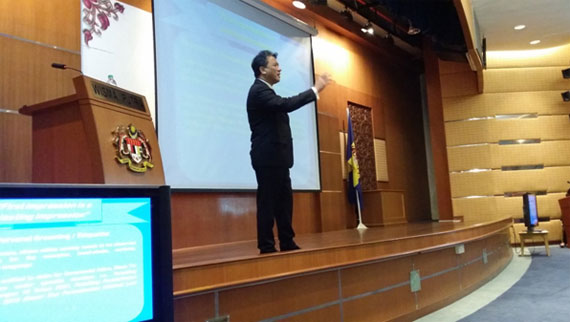 With the theme Aspects of Protocol, the Friday Morning Session of 8 August 2014 was held at Auditorium WP1, Ministry of Foreign Affairs (Wisma Putra). The session saw the participation of officers from Wisma Putra and IDFR. Among them, officers of Grades 41-44 were the majority who attended the session. The objective of the session was to advance the knowledge and understanding of protocol in Malaysia and abroad.
Dato' Syed Munshe Afdzar, Chief of Protocol, Wisma Putra was the speaker of the Friday Morning Session. He spoke on the definitions of protocol, privileges and immunity; the composition of the Protocol Department as well as its roles and functions; the influence of culture and heritage in protocol and fine dining. In his talk, Dato' Syed Munshe Afdzar highlighted that first impression is a lasting impression. Thus, he urged the participants, especially the diplomats to invest and pay attention to grooming and clothes, so as to look professional. Dato' also said that fine dining is an important feature in protocol and that the culture of fine dining needs to be nurtured among our diplomats. This is to ensure that our diplomats represent Malaysia as a modern and progressive developing country.
The initiative of the Human Resource Management Division of the Ministry of Foreign Affairs in organising the session such as this is praiseworthy as the topic is very much relevant, important and useful for diplomats and officers working under the Ministry.
IDFR's officers who attended the session were Ms. Lim Hui Chin, Mrs. Zuraini Harun, Mr. Amirul Khairi Mustafa Bakri, Mrs. Azmah Mahmud, Mrs. Farah Dibah Abu Hanipah, and Ms. Nik Nazarina Nek Mohamed.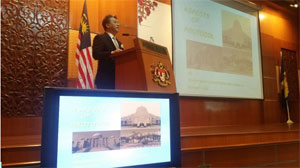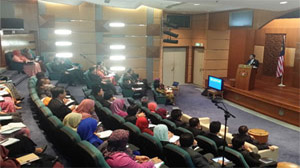 Reported by: Lim Hui Chin
Office of Director General