Forum on "Nuclear Weapons: Still An Existential Threat to Humankind" by Professor the Honourable Gareth Evans AC QC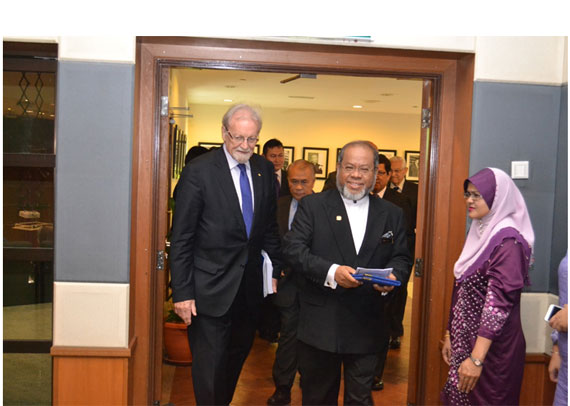 A Forum titled, "Nuclear Weapons: Still An Existential Threat to Humankind" by Professor The Honourable Gareth Evans AC QC, Chancellor of Australian National University and the former longest serving Foreign Minister of Australia was held at IDFR Auditorium, on 15 October 2014. He is currently the Co-Chairs of the International Advisory Board of the New-York based Global Centre for the Responsibility to Protect, and is Convenor of the Asia Pacific Leadership Network for Nuclear Non-Proliferation and Disarmament. YBhg. Tan Sri Hasmy Agam, Chairman of SUHAKAM moderated the session.
YBhg. Dato' Hussin Nayan, Director-General of IDFR in his welcoming remarks, said that the importance of total elimination of nuclear weapons should be consistently be at the top of the international agenda. Malaysia in this respect has also been actively pursuing for the cause for a nuclear-free world through participation in various multilateral platforms in the discourse on non-proliferation and disarmament.
Professor Gareth Evans introduced his presentation by drawing the concern of nuclear weapons' impact on climate change. Then he talked about four components of nuclear threats and risk which are existing nuclear armed states; new nuclear armed states; nuclear terrorism; and peaceful uses of nuclear energy. In addition, he talked about The International Commission on Nuclear Non-Proliferation Disarmament (ICNND) initiated by the Australian Government and its action agenda including nuclear disarmament and nuclear non-proliferation.
The forum also highlighted that the pursuit of minimization to eliminate nuclear weapons policy should be the collective efforts of the various governments, pressure groups and more importantly, the participation of civil society. The agenda of nuclear-weapons free world would be futile if these important institutions do not work in tandem. The questions on the prospect of nuclear energy; risk management of nuclear weapons and the geopolitical conflict among the nuclear-armed states were also addressed.
The forum attracted representatives of the diplomatic corps, policy makers, academicians, university students and representatives from various governmental agencies, non-governmental organisations and the media.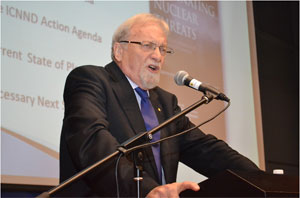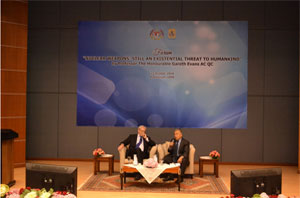 Reported by:

Mohd Hail Aniff Mohd Fauzi
Corporate and Management Services Division