Roundtable Discussion on "The Growing U.S.-Asean Partnership and Priorities at The East Asia Summit"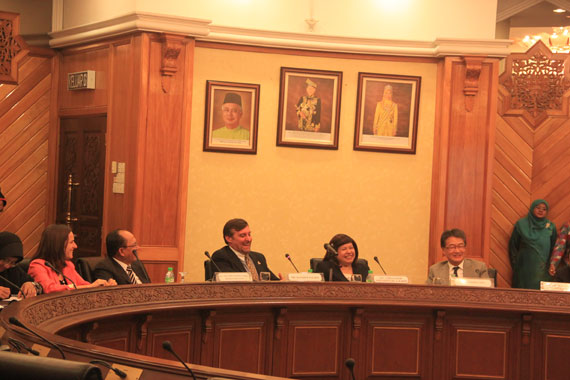 On 27 October 2014, the Institute of Diplomacy and Foreign Relations (IDFR) in collaboration with the U.S. Embassy organised a roundtable discussion titled "The Growing U.S.-ASEAN Partnership and Priorities at the East Asia Summit" by Mr. Matthew Palmer, the Director of Multilateral Affairs in the Bureau of East Asian and Pacific Affairs of US Department of State.
Mr. Palmer spoke mainly on the way forward in EAS and its challenges including development, security and economic prosperity. He also touched on the current situation in the South China Sea. As to what the U.S. could offer ASEAN, he said that the U.S. is forming an improvement of ASEAN people's capacity building efforts more than the physical projects in the ASEAN region.
In attendance were the U.S. Ambassador, H.E. Joseph Y. Yun, the Indonesian Ambassador, H.E. Air Chief Marshal (Rtd) Herman Prayitno, members of the diplomatic corps, officers from various government ministries, faculty members from various universities, NGOs and students.
Reported by:
Nik Nazarina Nek Mohamed
Training Division