Diplomacy and International Relations Module for PTD Cadets 2014 (Sidang AB and Sidang CD)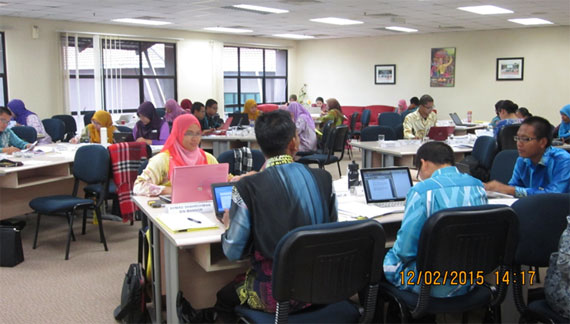 The Diplomacy and International Relations Module was conducted for two groups of PTD cadets in IDFR. Each group comprised of 61 participants. The five-day programme was designed and planned with the collaboration between Sub Cluster for Human Capital Development, National Institute of Public Administration (INTAN) and IDFR. The first group, Sidang A and B, was held from 9 to 13 February 2015, while the second group, Sidang C and D, was conducted from 23 to 27 February 2015.
The objectives of the module were to enhance knowledge of participants to the field of diplomacy and international relations; to provide an understanding of the role and functions of a diplomat and to provide an insight a and understanding on Malaysia's experience and perspective towards diplomacy and international relations issues.
The module included lectures related to Malaysia's Foreign Policy, Protocol Matters Related to Foreign Service, Roles and Function of Missions, ASEAN Chairmanship 2015, Consular Matters, Language and Diplomacy, Cross-Cultural Awareness, Dealing with the Media, Understanding Terrorism Threat, Malaysia's Non-Permanent Seat in UNSC 2015-2015, Public Speaking and Presentation Skills and also a Sharing Session with a Senior Diplomat.
The participants were also required to prepare an article review and presentation at the last day of the module. They were evaluated based on their ability to identify the areas of analysis, the use of sophistication in words and expressions used in communication, the originality of their ideas, their enthusiasm, pronunciation and gestures during presentation, as well as the overall evaluation on their writing and presentation skills.
Reported by:
Dzuita Mohamed
Training Division