Eminent Person Lecture Series (EPELS) titled, "The Future of ASEM"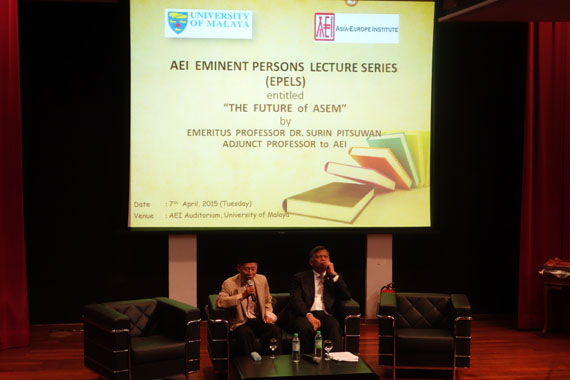 On 7 April 2015, the Asia-Europe Institute (AEI) of University of Malaya (UM) organised the Eminent Person Lecture Series (EPELS). This time the speaker was Emeritus Professor Dr. Surin Pitsuwan, Adjunct Professor to AEI titled, "The Future of ASEM" at its Auditorium.
The Lecture basically revolved around the backdrop to the creation of Asia-Europe Meeting (ASEM) and its long-term prospects. It was said that the very idea of creating ASEM came from the robust economic growth of East Asia. This notwithstanding, it is important to cultivate good relations and promote long term collaboration across Asia and Europe for the common good. And that the relations must be based on equal partnership and mutual respect.
The Lecture was attended by Ambassadors and members of the diplomatic corps; Former Malaysian Heads of Mission; government officials from agencies such as Ministry of International Trade and Industry (MITI), Ministry of Defence (MINDEF) and the Institute for Youth Research under the Ministry of Youth and Sports; academicians; researchers; students and journalists. IDFR was represented by Mrs. Zanariah Abdul Malek, Deputy Director of the Academic Studies, Research and Publication Division; Mrs. Farah Dibah Abu Hanipah, Assistant Director from the same Division; and Ms. Lim Hui Chin, Assistant Director of the Office of Director General.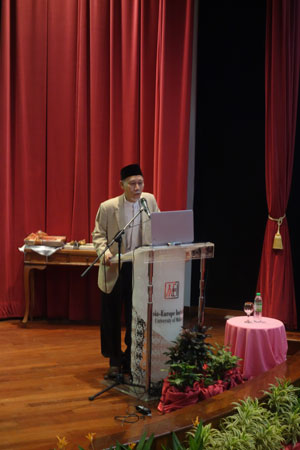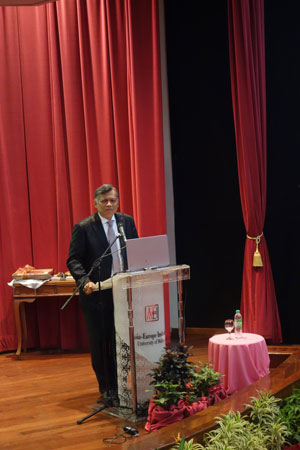 Reported by:
Lim Hui Chin
Office of Director General