MIDAS Talk 11/2015 by H.E Le Luong Minh on "Asean Community 2015: Challenges and Opportunities"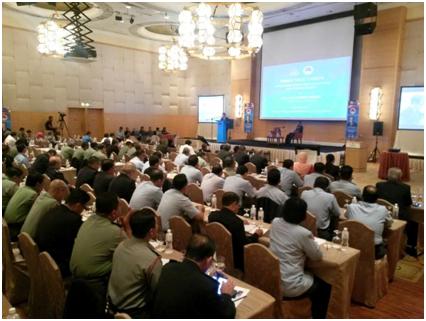 The Malaysian Institute of Defence and Security (MiDAS) has organised the MIDAS Talk 11/2015 by H.E Le Luong Minh on "Asean Community 2015: Challenges and Opportunities" on Wednesday, 29 April 2015 at Price Hotel and Residence, Kuala Lumpur. H.E Le is the Secretary General of ASEAN.
H.E Le Luong Minh congratulated Malaysia for the success of 26th ASEAN Summit, which was held in Kuala Lumpur and Langkawi on 26-28 April 2015. He believed positive outcome will be made by the end of 2015 in ASEAN's effort to build a three-pillared ASEAN Community of political cohesion, economic integration and social responsibility.
In his lecture, he mentioned ASEAN's efforts to build a truly people-oriented, people-centred ASEAN Community have underpinned the peace and stability of the region, allowing the regional and national economies to flourish and remain resilient.
Some of the challenges that confront ASEAN, in his view, are the recent external shocks that have affected ASEAN directly or indirectly including the financial crisis, uncertain security environment and emerging non-traditional and transnational challenges. He urges ASEAN to be dynamic and flexible enough to respond to extraneous factors without compromising it's principles and well-being and ensuring regional peace and stability with ASEAN at the driver's seat.
The other challenge is the situation in the South China Sea which remains a concern in the region. ASEAN and China have commenced discussions on the implementation of the Declaration of Conduct (DOC) in the South China Sea and a Code of Conduct (COC) and some progress was made at the recent Joint Working Group Meeting on the DOC and COC held in Myanmar recently.
In addition, ASEAN has to tackle head-on emerging non-traditional security challenges such as trafficking in persons, terrorism and extremism, drugs and pandemic diseases. A serious concern at this point is the threat of violent extremism and radicalism. In the last quarter of this year, Malaysia will convene a special ASEAN Ministerial Meeting on Violent Extremism to look into these non-traditional challenges posed by terrorism, extremism, violence and radicalisation.
On the journey to ASEAN Community, the grouping is now developing a new strategy of 'One ASEAN, One Response' in the field of humanitarian assistance and disaster relief. This strategy is derived against the background increasing frequency and severity of natural disasters in ASEAN countries and their devastating impacts on the lives and economies of ASEAN communities.
ASEAN's ultimate success as a regional organisation will be seen in how it has contributed to the improvement and betterment of the living conditions of nearly 625 million ASEAN citizens. For this, ASEAN has used its central and pivotal role to drive the deepening of economic integration within the region and into the global economy with a view to reducing poverty and socio-economic disparities among its Member States and people.
Amongst the attendees at the event were representatives and officials from various Ministries and Government Agencies and NGOs. IDFR was represented by Mr. Syed Bakri Syed Abdul Rahman, and Mrs. Farah Dibah Abu Hanipah.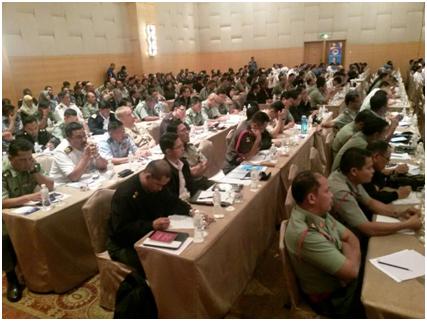 Reported by:
Farah Dibah Abu Hanipah
Academic Studies, Research and Publication Division