DiD 2015: Visit by DiD Participants to the National Palace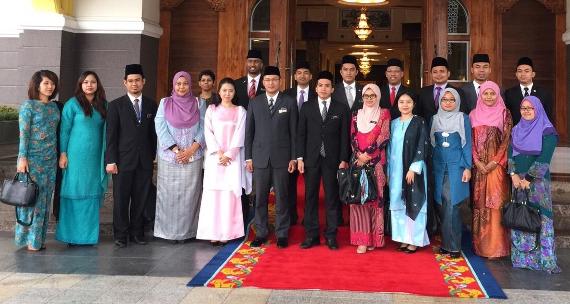 With a view to sharpening diplomatic soft skills among young diplomats, 18 participants of the Diploma in Diplomacy (DiD) 2015 underwent the Royalty and Palace Protocol sub-module at the National Palace on 22 May 2015.
The session was conducted by Mr. Sophian Ab Rahman, the Ceremonial Officer from the Ceremonial Division, National Palace. During the session, the participants were briefed on the history and functions of the Constitutional Monarchy and National Palace including the nomination process of His Majesty the Yang di-Pertuan Agong as prescribed in the Third Schedule of the Federal Constitution and Regulations of the Conference of Rulers. They also took part in simulation exercise on procedures in presenting gifts to His Majesty the Yang di-Pertuan Agong as well as receiving credentials from His Majesty.
The interactive approach on this sub-module has managed to further increase participant's knowledge and understanding of the royal and palace protocol. This will prepare them to handle His Majesty and the royalties in a proper manner when they serve abroad in the future.

Reported by:
Johan Arief Jaafar
President
Diploma in Diplomacy (DiD) 2015