MTCP: Intercultural Awareness and Diplomacy Course 2016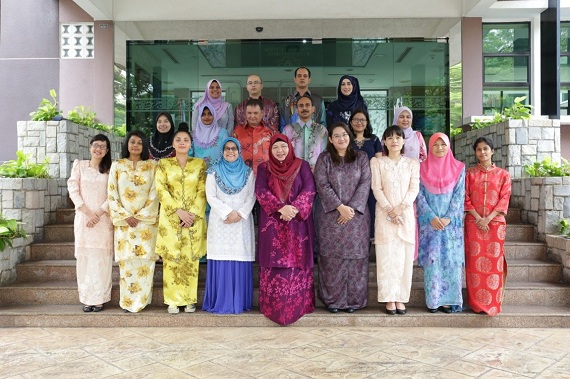 The Centre for Languages and Cultural Diplomacy, Institute of Diplomacy and Foreign Relations (IDFR) conducted a two and a half week Intercultural Awareness and Diplomacy Course held from 21st July to 5th August 2016. This course is funded by the Malaysian Technical Cooperation Programme (MTCP), attended by 14 international participants and two from Malaysia. The aim of the course is to create mutual understandings among the 16 participants towards fostering global peace and stability in various fields such as economics, business, intercultural dialogue & exchange, human rights, and religion.
The course was conducted fully in English with modules on Introduction to Culture and Diplomacy, Language and Diplomacy, Diplomacy in Crisis Management, Media and Multiculturalism, Negotiating across Cultures, Cultural Diversity: Education as the Unifying Force, Intercultural Awareness through Sports among others. Throughout the course, the participants learn through interactive lectures, group discussions, simulation exercises, case study and went on a state cultural awareness visit to Negeri Sembilan. Besides classroom lectures and interactions, the participants were also taken on cultural tours within Kuala Lumpur. They visited Putrajaya and had the opportunity to study the development of the Federal Administrative Capital of Malaysia and the Intelligence City of Cyberjaya. Other then the visits to Putrajaya and Cyberjaya, the participants too visited the Kuala Lumpur Craft Complex, where they had the opportunity to dabble in Batik painting and at the Malaysian Tourism Centre (MaTic), they gained insights into the different ethnic cultures of Malaysia. During the walkabout in Kuala Lumpur, they were taken to visit the National Palace, National Mosque, Central Market, and Batu Caves, the site of a Hindu temple and shrine. At Kuala Lumpur Tower, the participants had a bird's eye view of Kuala Lumpur from the 300 metres ground level, glass caged Skybox.
The Closing Ceremony for the programme was jointly organised with the MTCP: Strategic Analysis for International Participants course, held 5 August 2016 at IDFR VIP Dining Hall. The Closing Remarks was delivered by Madam Hajah Norani Ibrahim, Director of Special Projects, on behalf of the Director General of IDFR, and at the end of the ceremony the participants were awarded with certificates of completion.
Among the honourable guests who attended in the event were H.E. Dr. Muzaffar Muhammadi, Ambassador of the Republic of Tajikistan to Malaysia ,H.E. Syed Hassan Raza, High Commissioner of the Islamic Republic of Pakistan to Malaysia; H.E. Ibrahim Sahib Ansar, High Commissioner of the Democratic Socialist Republic of Sri Lanka to Malaysia; H.E. Dato' Dr. Anwar H. Al Agha, Ambassador of the State of Palestine to Malaysia; H.E. Ibrahim Sahib Ansar, H.E Laura Donoso, Ambassador of the Republic of Ecuador to Malaysia; Mr. Beh Ching Chye, Principal Assistant Secretary of the International Cooperation and Development Division (ICADD), Wisma Putra and Embassy Representatives of the participating countries.