Cultural Diplomacy Lecture Series (CDLS) 3: Culture and Diplomacy by YBhg. Tan Sri Dato' Sri Utama Dr. Rais Yatim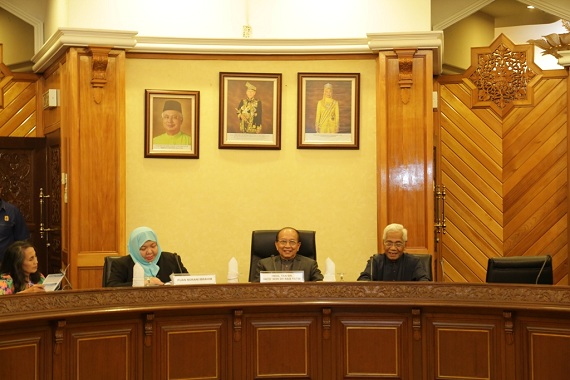 Cultural Diplomacy Lecture Series (CDLS) 3 was held at the Institute of Diplomacy and Foreign Relations (IDFR) on the 29 August 2016 with the theme, "Culture and Diplomacy". The speaker for this event was The Honourable Tan Sri Dato' Seri Utama Dr. Rais Yatim who delivered his insightful thoughts on aspects related to culture and diplomacy. The honourable speaker is the current President of the International Islamic University Malaysia (IIUM) and Special Adviser to the Malaysian Government on Socio-Cultural Matters with Ministerial Status.
In his speech, Tan Sri Dato' Seri Utama Dr. Rais Yatim explored on the definitions of culture and diplomacy, relating them to the Malay Language as a regional language and the conceptual thinking in a form of ASEAN community. He further took a stand that virtual diplomacy is a new spectrum of diplomacy aiming directly to the digital age community at a global stage of technology. This new digital platform should be implemented within the ASEAN community especially in education.
In his elaboration of cultural diplomacy, the honourable speaker suggested that the implementation of new elements like humor in delivering thoughts on culture to the public would be beneficial. Among other significant issues touched was on the ASEAN Pillars which comprised political, economic and socio-cultural pillars. Within the social-cultural context, it is essential to learn about 'adat' or tradition as what he regarded as the local wisdom presented in subtle versions like in 'pantun' in the Malay Language.
The session also saw an interactive exchange of ideas and insights between the speaker and audience. Tan Sri Dato' Sri Utama Dr. Rais Yatim ended his lecture with a view that ASEAN's culture could be defined through identifying similarities and differences and working together for a prosperous growth of ASEAN.