IDFR Lecture Series 1/2018: China's Rise and Asian Regionalism: Implications for ASEAN and Malaysia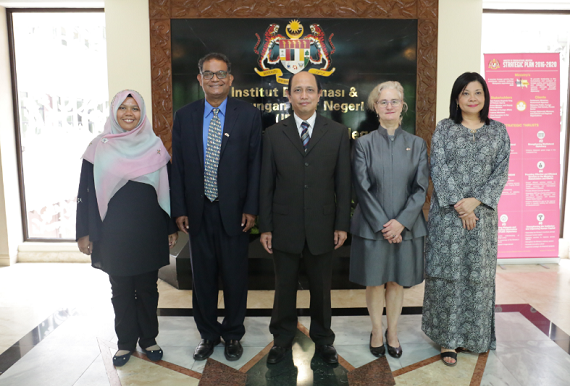 On 19 July 2018, IDFR hosted Professor Amitav Acharya, a renowned Professor of International Relations at the School of International Service, American University, Washington D.C. for a lecture entitled "China's Rise and Asian Regionalism: Implications for ASEAN and Malaysia". The IDFR Lecture Series (ILS) provides an opportunity for the distinguished speakers to share their thoughts and insights on the topic of their expertise. The lecture by Professor Amitav was jointly organised between IDFR and Asia-Europe Institute (AEI), University of Malaya, in collaboration with the High Commission of Canada in Kuala Lumpur.
At the outset, Professor Amitav explained about the geopolitical landscape of the region whereby various major powers had attempted to create or lead regionalism in the past. He elaborated that the Asian Relations Conference, Southeast Asia Treaty Organization (SEATO) and regional grouping of Asian and African countries as among the leading examples of such efforts. However, all regionalism efforts did not materialize due to lack of capability, legitimacy, commitment and mutual counterbalancing among the concerned parties. Professor Amitav noted that China has shifted to become an active player in Asian regionalism at present, though initially it was reluctant to take part especially in the ASEAN-led regionalism such as ASEAN Regional Forum (ARF). He deduced China's decision is due to the growing capacity and confidence manifested through Chinese diplomacy of transformation from "keeping a low profile" to "striving for achievements" following President Xi Jinping's call for "China will lead". Against this backdrop, Professor Amitav opined that "ASEAN First" policy should be advocated among the member states emphasizing on Southeast Asia unity, autonomy and identity vis-à-vis China's rise in the region.
With regards to the Indo-Pacific concept, Professor Amitav opined that since the concept is a relatively new challenge, it is more strategic rather than a regional concept. There are competing visions about Indo-Pacific, one is strategic military oriented vision and the other is more inclusive and more in style with ASEAN regional concept.
At the Treaty Room – where the lecture was full to the brim, the lecture was well-attended by 112 representatives from relevant government agencies, embassies, think-tanks, universities and international organizations. There were officials from the Ministry of Foreign Affairs, Southeast Asia Regional Centre for Counter-Terrorism, Prime Minister's Department, Ministry of Defence, Ministry of Education, Ministry of Youth and Sports, Ministry of International Trade and Industry, Malaysia External Trade Development Corporation, Ministry of Tourism, Arts and Culture, Malaysia Institute of Defence and Security, INTAN, Malaysian Maritime Enforcement Agency, Maritime Institute of Malaysia, ISIS Malaysia, University of Malaya, National University of Malaysia, MARA University of Technology as well as representatives from the Embassies of Thailand, Russia, Vietnam and UNESCO in Kuala Lumpur.