MTCP: Diplomatic Training Course for International Participants 2021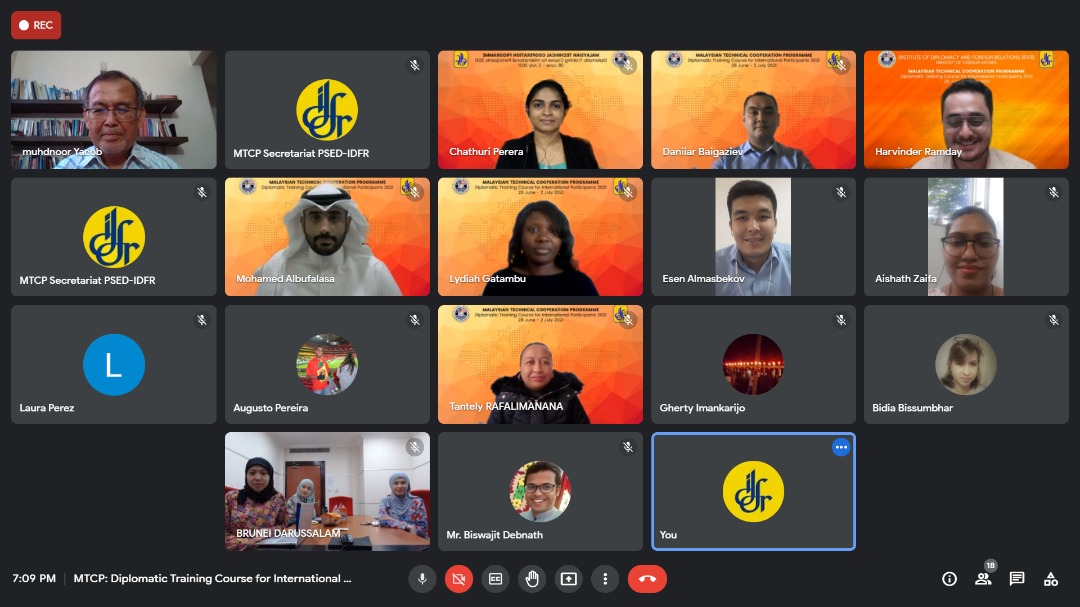 IDFR had organised the Diplomatic Training Course for International Participants under the Malaysian Technical Cooperation Programme (MTCP) on 28 June to 2 July 2021. The five-day course was held virtually and gathered aspiring young diplomats from various countries to enhance their knowledge, diplomatic skills and competencies in the conduct of diplomacy and foreign relations. The course was attended by 17 diplomats from Bahrain, Bangladesh, Brunei Darussalam, Cuba, Kenya, Kiribati, Kyrgyz, Madagascar, Maldives, Sri Lanka, Suriname, and Timor-Leste.
The participants were pleased to experience an integrated teaching and learning format i.e lectures, discussions, and case studies. Among the modules covered during the course were Malaysia's Foreign Policy; Malaysia's Public Diplomacy; Economic Diplomacy and its Practices; Malaysia's Bilateral & Multilateral Diplomacy Practices; Crisis Management; Strategic Leadership and Management for Officers; Malaysia & ASEAN; Media Relations & Media Skills; Diplomacy and Protocol Practices; International Negotiations; Personality Grooming & Diplomatic Etiquette; and finally Futurology & Scenario Planning in Diplomacy. All the modules were designed to demonstrate 'diplomacy as an instrument of good governance' which is parallel to the course's objectives.
In addition, IDFR is honoured to have prominent speakers throughout the course for their time and effort in sharing their thoughts and valuable experiences with the participants. For this year Diplomatic Training Course, IDFR has invited a number of speakers such as Mr. Nazarudin Ja'afar (Department of Policy Planning & Coordination, Ministry of Foreign Affairs); Mr. Mohammed Hosnie Shahiran Ismail, Principal Assistant Secretary (Communication & Public Diplomacy Division, Ministry of Foreign Affairs); Prof. Dr. Sufian Jusoh, Director (International Trade & Investment at the Institute of Malaysian and International Studies, IKMAS); Mr. Wan Aznainizam Yusri, Undersecretary (Americas Division, Ministry of Foreign Affairs Malaysia); Mr. Jamal Sharifuddin Johan, Undersecretary (Multilateral Political Division, Ministry of Foreign Affairs Malaysia); Major Mohd Ridzuan Hj. M. Shariff from Cyber Security Malaysia; Mr. Aznir Abdul Malek, Former Director of Quality, Tenaga Nasional Berhad; Mr. Mohd Suhaimi Ahmad Tajuddin, Deputy Director General (ASEAN-Malaysia National Secretariat, Ministry of Foreign Affairs Malaysia); Mr. Nizal Mohamad from Smart Knowledge Consultant; Dato' Aminahtun Hj. A. Karim, Former Malaysian Ambassador; Dato' Muhammad Noor Yaacob, Former Malaysian Ambassador & Permanent Representative to World Trade Organisation (WTO); and Mr. Shaharudin Abd. Ghani, Founder-Director of ACOVA Consultancy.
Despite the training being held online, all the participants were actively involved in the modules. The feedback given by both speakers and participants were positive and constructive. At the same time, IDFR is continuously working to improve its modus operandi for maximizing the efficiency in delivering the course.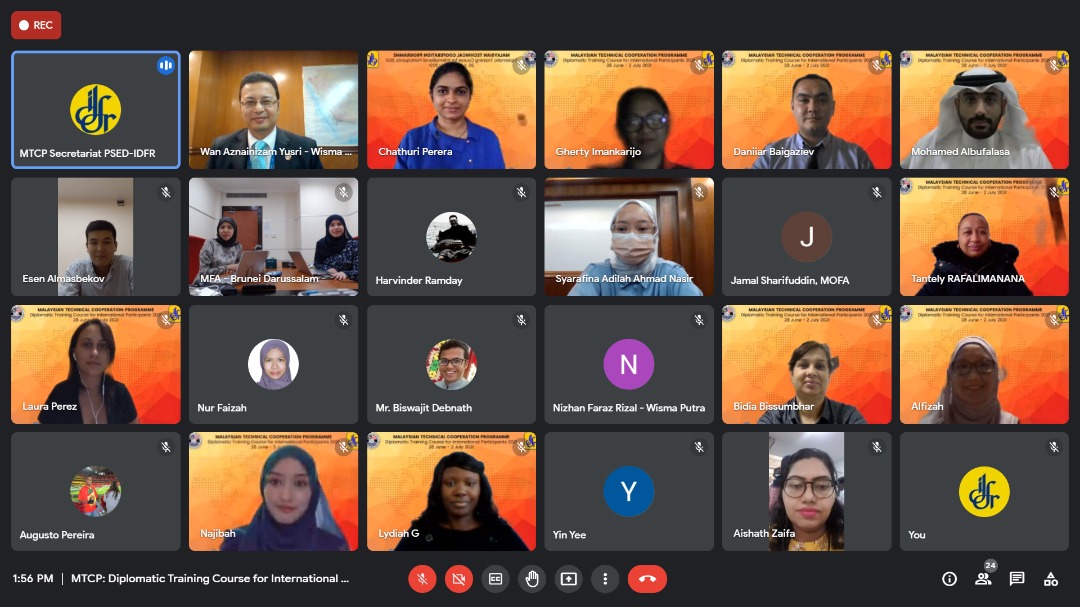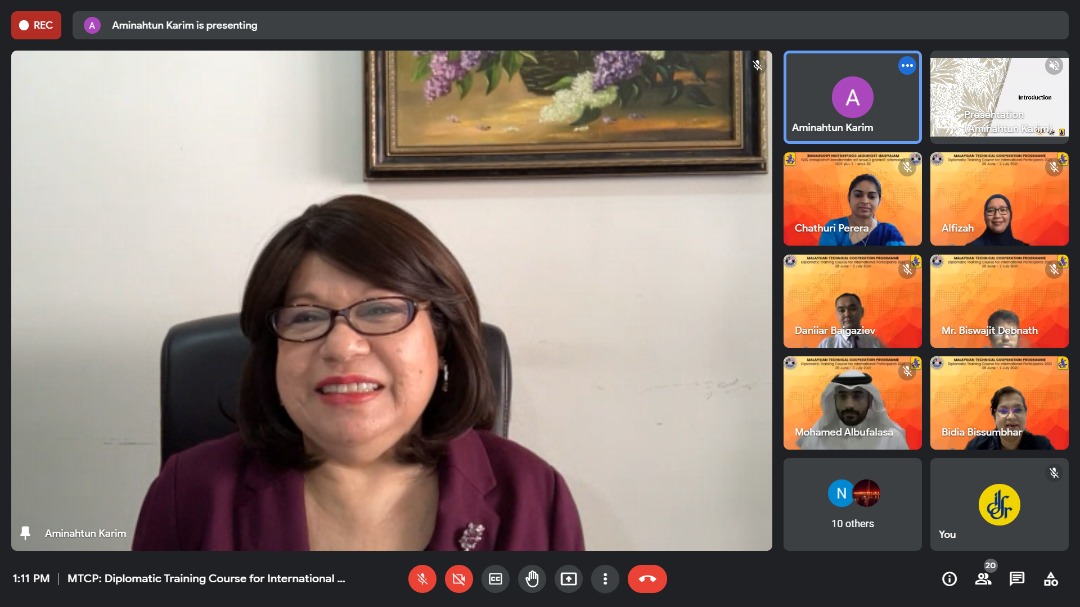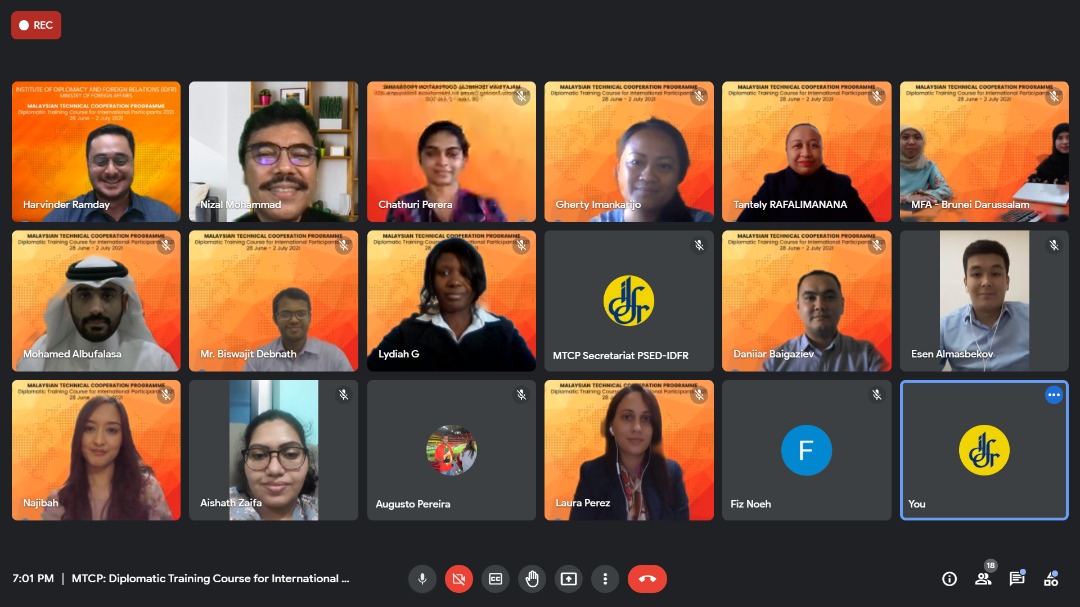 Prepared by:
Centre for Political Studies and Economic Diplomacy (PSED)