Negotiation Course for Junior Level Officers 2021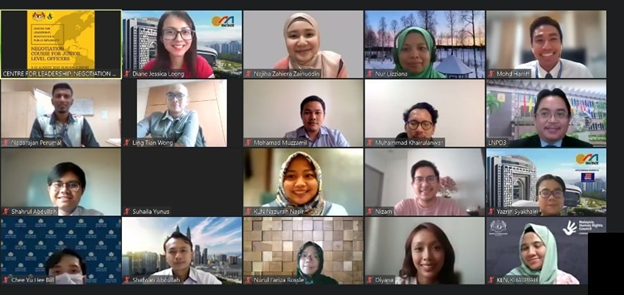 The Centre for Leadership, Negotiation and Public Diplomacy (LNPD) of IDFR had successfully organised the Negotiation Course for Junior Level Officers for the year 2021. The course was held online from 9 to 12 August 2021 and was intended for Malaysian diplomats as well as Malaysian government officials at junior level of Grade 41 to 44, who are involved in negotiations in formal and informal settings with the government and non-government actors, both locally and internationally.
Forty-five participants who attended the course were officers from various ministries, departments, and agencies of the Malaysian government. They were from the Ministry of Foreign Affairs, Prime Minister's Department, Ministry of Transport, Ministry of Science, Technology and Innovation, Ministry of International Trade and Industry, Science and Technology Research Institute for Defence, Ministry of Defence, Ministry of Education, Ministry of Higher Education, Malaysia External Trade Development Corporation, and Majlis Amanah Rakyat.
This course was designed to enhance participants' understanding of the principle rules of negotiations in any environment, strengthen participants' negotiation skills in getting ahead, resolving conflicts, and creating value at workplace as well as to provide participants with an up-to-date experience of negotiation strategies, processes, tools, and tactics in preparation to be a successful negotiator. The participants were exposed to the modules such as Understanding Negotiation; Knowing What You Want and Preparing to Get It; Mapping Your Opposition; Knowing the Marketplace; Setting and Enforcing Limits, and Negotiation Canvas. They also had the opportunity to actively engage with the experts in the field of negotiation on Sharing of Experience in Negotiations, Breakout Sessions, and Group Presentation and Reflection sessions.
In his closing remarks, the Director of LNPD, Mr. Hamizan Hashim congratulated all participants for their commitment in completing the course and wished them the best in their future endeavours.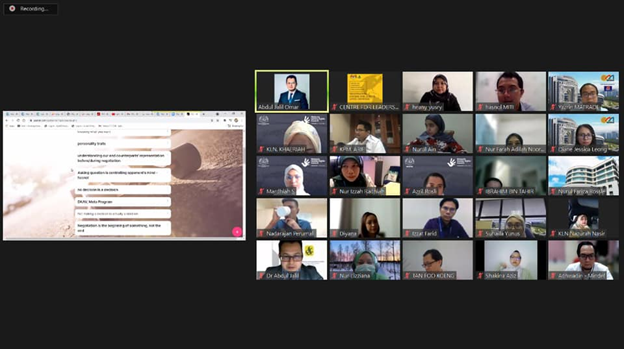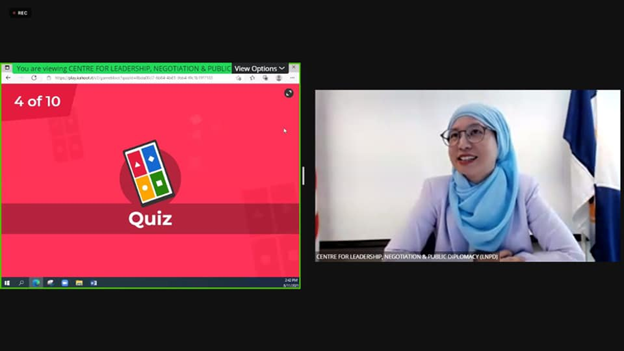 Prepared by:
Centre for Leadership, Negotiation and Public Diplomacy (LNPD)