"It Was Not Merely The Mountain That We Conquered, But That Of Ourselves"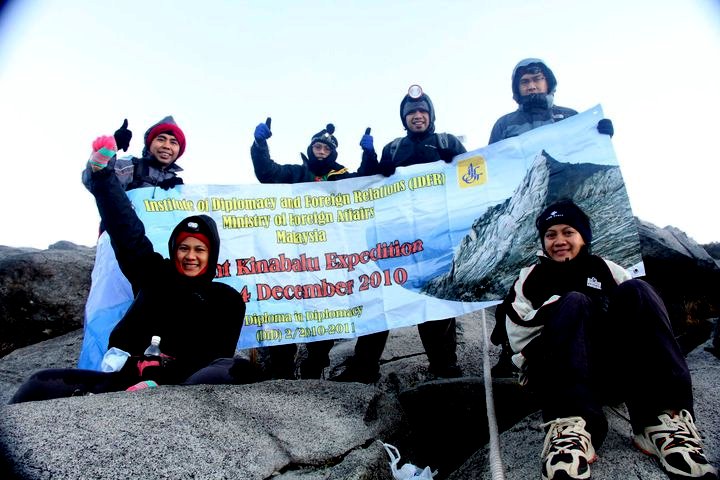 On 14 December 2010, twenty Diploma in Diplomacy 2 (DiD2) participants including three officers successfully conquered the peak of Mount Kinabalu at 4095.2 meters which is the highest mountain in the South East Asia. Mount Kinabalu is also Malaysia's first UNESCO site.
The Mt. Kinabalu IDFR Expedition was led by Y.Bhg. Ambassador Abdullah Faiz Zain, Cik Romaiza Abd Rahman and En. Haris Syarwani Razali. The expedition was part of DiD2 programme which hopefully would be an annual affair for the future DiD courses.
The twenty DiD2 participants were Abdul Razak Sharif, Ahmad Fikri Zakian, Ahmad Shamsul Bahari Ismail, Al-Fadil Adam, Amir Farid Dato' Abu Hassan, Anis Wajdi Mohd Yusoof, Astar Kumaroov Mohammad, Hana Nordin, Ilham Nursyiqim Rosli, Maebel Leong Sai Fong, Mohamad Haris Abdul Latiff, Mohamed Ariff Mohamed Ali, Muhammad Ridzuan Abu Yazid, Neevia Kurup Sukumaran, Nordiana Zin Zawawi, Nur Nadiah Hidayat, Sharmini Devi Gopal, Siti Fatma Omar, Subashini Kamarapullai and Wan Iskandar Wan Adnan.
After the triumphant of scaling up to the peak of Mount Kinabalu, one participant remarked that being in the heart of Kuala Lumpur at times has made them forget the other side of Malaysia. Truly, at times, we do forget that across the wide and vast South China Sea, lies a land known to all as Sabah; the land below the wind.
The mountaineers braved the extreme cold weather, rocky trail and steep climb to achieve a feat that is only attained by a privileged few. The push for the Summit begin as early as 2.00 a.m. in the dark cold damp morning fully armed with the necessary equipments. Despite the dark, the objective of the climb was clear as day; to reach the peak of the mountain and to get a glimpse of the sunrise.
Definitely, the experience was etched in the mind of all the climbers as "it was not merely the mountain that they conquered, but that of ourselves".It's suppose to be an uncompleted line for the readers to have their own perspectives on what was conquered.
While in Sabah, the DiD2 participants led by Y.Bhg. Dato' Ku Jaafar Ku Shaari, Director General IDFR paid a courtesy call on Datuk Yahya Hussein, the Deputy Chief Minister of Sabah. They were also given a briefing on Sabah State and Economic Development by Datuk Ismail Abdullah, State Economic Planning Unit Director. Apart from that, the participants also went for a Study Visit to the University Malaysia Sabah where they were received and given a talk by Y.Bhg. Brig. Jen. Prof. Datuk Seri Panglima Dr. Kamaruzaman Hj. Ampon, the Vice Chancellor. Y.B. Datuk Dr. Yee Moh Chai, Deputy President of the Sabah United Party also hosted a sumptuous lunch for the DiD2 participants.