Tan Sri Rastam Mohd Isa Bids Farewell to IDFR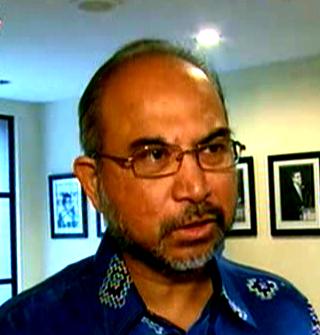 Tan Sri Rastam Mohd Isa, the outgoing Secretary General of the Ministry of Foreign Affairs of four years bid farewell to IDFR's officers and staff on 2 September 2010 after a 36-year career in the Malaysian diplomatic service which include ambassadorial postings to Pakistan, Bosnia Herzegovina and Indonesia and as a permanent representative to the United Nations in New York and Deputy Secretary-General I of the Ministry of Foreign Affairs respectively.
Tan Sri Rastam in his farewell speech was happy to note IDFR's achievements in carving a name for itself in training diplomats from developing countries and the sharing of Malaysia's experience and expertise in the field of diplomacy with officials from countries such as Timor-Leste, Afghanistan, Iraq, and Palestine. In his speech, he also shared his aspirations for IDFR to move forward to become a premier training institute and enlarged its training programmes to include participants from non-governmental organisations, government-linked companies and private sectors. Correspondingly, IDFR also needs to engage itself more with other diplomacy institutes in particular from developed countries for technical assistance and mutual cooperation. Lastly, he also stressed the importance of teamwork and achieving excellence among staff.
The event ended with Ambassador Abdullah Faiz Zain presenting a token of remembrance to Tan Sri Rastam on behalf of IDFR and its staff.
Other Latest Newsline
---