Study Visit To Kuala Lumpur International Airport (KLIA)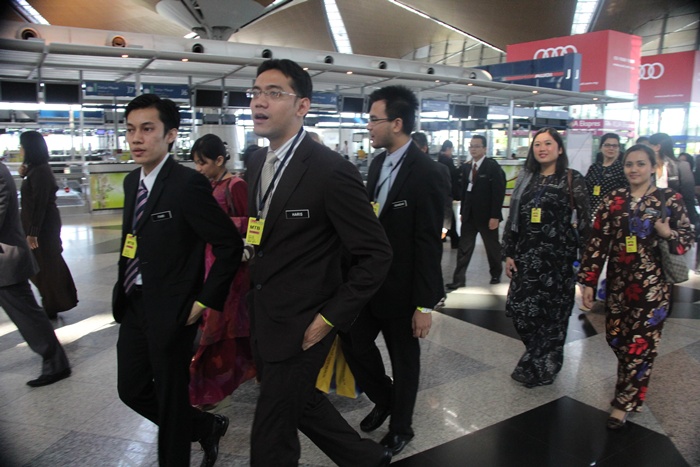 The visit to the KLIA on 23 February 2011 was made with the participation of 24 Diploma in Diplomacy (DiD) and officers of IDFR led by Ambassador Abdullah Faiz Zain, Deputy Director General of IDFR.
The programme started with a briefing session at 10 a.m. Representatives from the KLIA Customs, the Royal Malaysian Police (RMP), Immigration Department , Operation Terminal Division of KLIA and the Health Department gave their presentations
The delegation proceeded to the Air Traffic Control Tower which is situated next to the airport's main terminal. The participants had the opportunity of visiting the tower which reached more than 100 meters high. Up in the control room, the participants were briefed on the technical aspect of the operations and witnessed a series of planes landing and taking off.
Next, the delegation made a visit to the Immigration Detention Depot, situated in Sepang, about 15 minutes drive from the KLIA.
The visit to KLIA, Air Traffic Control Tower and the Immigration Detention Depot provided a vast knowledge and experience for the DiD participants. As far as diplomacy is concerned, it is pertinent for the participants to learn as much as they can on subjects and issues related to their line of work. The visit as well as the briefings from the agencies involved served the objectives.

Other Latest Newsline

-------------------------------------------------------------------------------------------------------------------------------------------------------------------------------------------------------------------