International Relations Module For The Participants Of Diploma In Public Management (DPA) 1/2011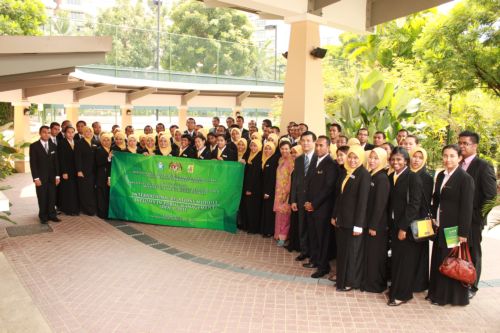 The Institute of Diplomacy and Foreign Relations (IDFR) and the National Institute of Public Administration (INTAN) jointly organized the International Relations Module for the Diploma in Public Management (DPA) 1/2011 from the 13 – 18 February 2012 and from 20 -25 February 2012. The module was attended by 145 officers from Sidang E and F and 144 officers from Sidang C and D respectively.
The objective of the module is to endow the participants with greater understanding on the concept of diplomacy and international relations. The aim is to build global thinking Malaysian officers equipped with resourceful and multitalented knowledge and skills in diplomacy.
Lectures that were included in the module include issues concerning Malaysia's Foreign Policy, Vienna Convention and Consular Relations, Malaysia's role in the creation of ASEAN Community in 2015 and Malaysia's Position on Counter Terrorism. The participants were also given the opportunity to digest various nuances and approaches of international relations such as International Negotiations and English and Diplomacy form IDFR's experts. Apart from that, Mr. Scott M. Rauland, the Public Affairs Counsellor from the Embassy of the United States of America was invited to share his views concerning Diplomats in the 21st Century with the participants.
During the module, the participants were required to present a group project presentation on issues such as the Global Movement of the Moderates, Arab Spring, UNSC Reform, Islamic Diplomacy in the current world situation, South China Sea and Spratly Issues, the Emergence of China and India as Economic Powerhouse, North Korean Nuclear Crisis and Palestine UN Membership.
The highlight of the module was the study visit organized to the High Commission of Malaysia in Singapore and the Civil Service College of Singapore. Several talks concerning the responsibilities and functions of the Malaysian diplomatic mission were delivered by the respective officers from the High Commission. The meeting with the CEO of the Civil Service College of Singapore also provided the platform for the participants to exchange views and make comparison between Malaysia and Singapore civil service. Certainly, the exposure and learning experience gained both in Singapore and Malaysia had broadened the participants understanding of the concept of international relations.