Diplomatic Training Course for International Participants Series 1/2012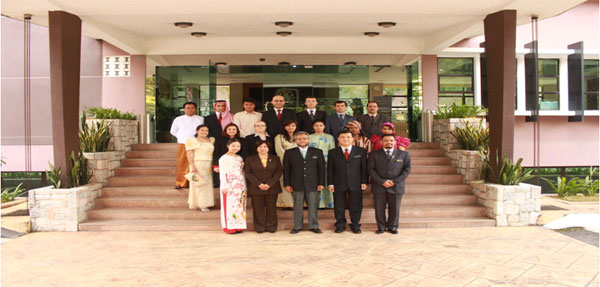 The first Diplomatic Training Course (DTC) for International Participants for this year came to a successful conclusion with the Closing and Certificate Presentation Ceremony on Friday 30 March 2012. The event was officiated by His Excellency Dato' Ku Jaafar Ku Shaari, the Director General of IDFR and was also graciously attended by several Ambassadors and High Commissioners of the participating countries.
The three weeks course was attended by 13 international participants from Afghanistan, Croatia, Egypt, Jordan, Lesotho, Myanmar, Namibia, Palestine, Philippines, Republic of Uzbekistan, Vietnam and Yemen. The two local participants were from Bank Negara Malaysia. During the course, several topics such as Introduction to International Relations Theory, Media Relations and Media Skills, International Negotiations, An Overview of Public Diplomacy, Human Rights Law and the Use of Force in International Law, Public Speaking, Cross Cultural Communication and Diplomacy in Crisis Management among others were discussed. All these lectures were delivered by guest speakers and qualified lecturers.
On top of that, the DTC participants also had the opportunity to attend a Special Address by His Excellency Ban Ki-moon, the United Nations Secretary General during His Excellency's visit to IDFR. Most of the participants expressed their satisfaction for being able to attend such a significant event.
Apart from lectures at IDFR, the DTC participants were brought on several study visits to various government ministries and agencies to gain knowledge about their roles and functions. The visit also included to the Terengganu State Secretariat office, where the participants were briefed about the state's economic and development plans.
While in Terengganu, the participants went on a boat ride to the Lang Tengah Island where they spent the weekend enjoying the sea, participated in beach activities and went snorkeling too.
Overall, the DTC participants were unanimous in their compliments about the knowledge, exposure and benefits that they had gained throughout the duration of the course. The subjects taught were tailored to prepare them in their line of work as young officers in the diplomatic corp. Thus, the participants had benefitted tremendously from the knowledge and experience shared among each other and with the lecturers. The participants also thanked IDFR and MTCP for giving them the opportunity to attend the course here in Malaysia while at the same time were given the chance to savor the food and sample the sights and sounds of enchanting Malaysia.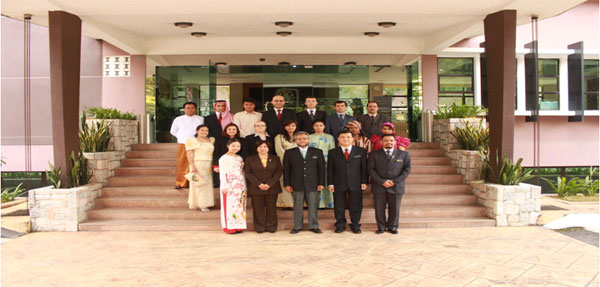 Back Row (From Left To Right) : Mr. Thiha Shein Nil (Myanmar), Mr. Faris Al-Adwan (Jordan), Mr. Mohammad Yasir Karimi (Afghanistan), Mr. Ahmed Metani (Palestine), Mr. Jasur Ashurov (Uzbekistan), Mr. Fatkhulla Abdurakhmanov (Uzbekistan), Mr. Abdulnaser Ali Mohammed Al-Lawzi (Yemen).
Second Row (From Left To Right) : Ms. Milette Socorro Flores (Philippines), Ms. Amira Mohamed Mahmoud Youssri El-Karamani (Egypt), Ms. Jelena Perić (Croatia), Ms. Nik Lily Hariati Shamsuddin (Malaysia), Ms. Norlizah Bt. Mohamed Shariff (Malaysia), Ms. Itumeleng Moerane Nchaka (Lesotho), Ms. Audrey Gantana (Namibia).
First Row (From Left To Right) : Ms. Trang Tran Thi Thu (Vietnam), Ambassador Aminahtun Hj. A Karim (Deputy Director General, IDFR), Dato' Ku Jaafar Ku Shaari (Director General, IDFR), Mr. Lim Juay Jin (Director Of Training, IDFR), Major Mohd Ridzuan Hj. M. Shariff (Senior Deputy Director, IDFR)