Competitive Through Creativity and Innovation Seminar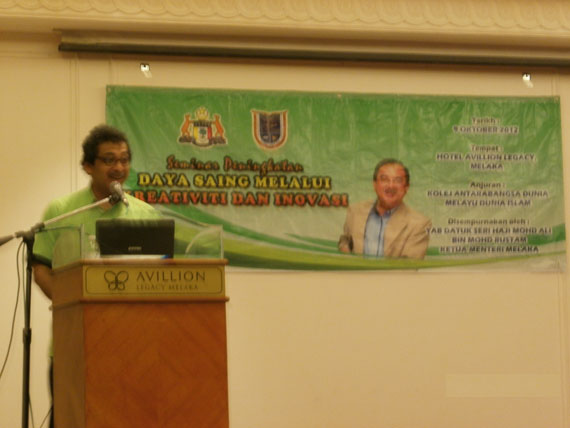 The very competitive current environment requires an organisation to focus on the aspect of creativity and innovation. These two important aspects are crucial to drive the transformation agenda thus, helps in improving the quality of life.
With this issues in mind, Kolej Antarabangsa Dunia Melayu Dunia Islam (KADMDI) has taken the initiative to host a one day seminar on 9 October 2012, at Avillion Legacy Hotel, Malacca which was attended by Puan Kamariah Jaafar, Deputy Director of Library, IDFR.
The Seminar themed 'Competitive Through Creativity and Innovation' aims to provide a platform for sharing of knowledge and experience on the importance of creativity and innovation within an organisation. The Seminar also disseminated information on the challenges faced in achieving management excellence, creativity and innovation as well as ideas to improve the performance of an organisation.
Four papers were presented by distinguished speakers as follows :
Penerapan Kreativiti dan Inovasi dalam Meningkatkan Prestasi Organisasi by YBhg. Datuk Prof. Madya Dr. Yusuf Kasim, Director of UUM, Kuala Lumpur;
Kreativiti dan Inovasi : Cabaran Masa Kini by YBhg. Datuk Prof. Dr. Abu Bakar Mohd Diah, CEO R&D, Malacca Chief Minister Department;
What Happens When Technology Innovation Capacity ss Disconnected from the Humanistic Values of Creativity, Imagination and Engagement ? by YBhg. Prof Dr. Nor Aishah Buang, UKM; and
Kecemerlangan Melalui Pengurusan Kreativiti dan Inovasi by YBhg. Dato' Prof Dr. Hashim Yaacob, Vice Cancelor of KLMUC.
The seminar was officially closed by YBhg. Datuk Prof. Dr. Abu Bakar Mohd Diah, representing the Chief Minister of Malacca.