Study Visit to The National Handicraft Centre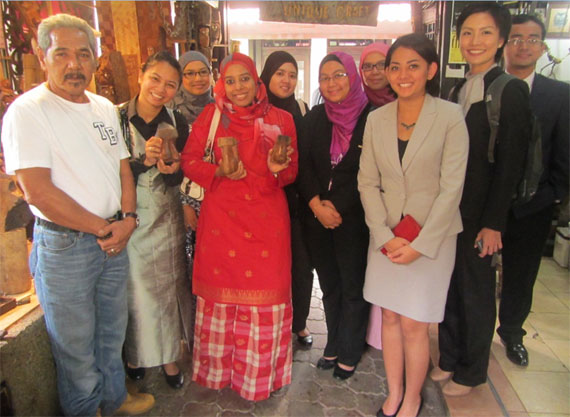 August 1 2012, the 24 participants of the Diploma in Diplomacy (DiD) IDFR went on a study visit to the National Handicraft Centre for them to study and learn about the local craft. The objective of the study visit is to expose the participants as junior diplomats, towards a better understanding of the unique Malaysia traditional and cultural products.
During the visit, the participants were told of the history behind the Malay legendary weapon - the 'Keris' and its craftsmanship, the demonstration of wood carvings as well as batik printings or paintings, and the art of playing the 'Gasing"; where the participants were given the opportunity to demonstrate their skills in playing the Malay traditional game.
In addition to that, the Aidilfitri Craft Promotion 2012 was also concurrently held at the same venue. The Deputy Minister of Foreign Affairs, YB Datuk Richard Riot anak Jaem, was also present at the Aidilfitri Craft Promotion 2012 event.