Defending National Interests 6-10 August 2012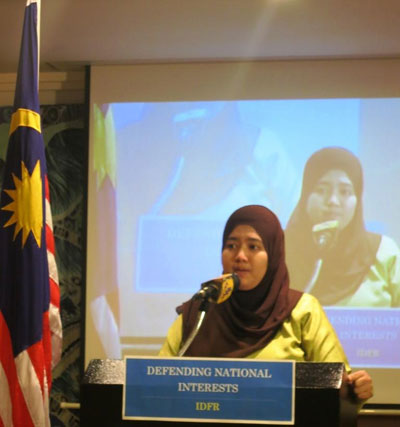 The Defending National Interests is one of the main highlights of the Diploma in Diplomacy (DiD) 2012 programme. Between 6 to 10 August 2012, the 24 participants of DiD 2012 underwent the module, which was essentially a press conference simulation exercise. The module has put together into practice many aspects that participants have learned so far in the DiD 2012 programme such as media and presentation skills. Above all, participants' English language proficiency was also put to test during the module.
Each participant was assigned a topic, covering a wide range of domestic and international issues such as racial integration, ASEAN and future challenges and the Global Movement of the Moderates. Participants delivered their respective presentations and were required to respond to questions from the floor, as well as evaluators comprising senior officials from the Institute of Diplomacy and Foreign Relations and senior officials from the Ministry of Foreign Affairs Malaysia. Participants were assessed based on a number of criteria, amongst others, knowledge on the subject given, ability to remain calm under stressful situation, analytical thinking and stewardship in their presentations.
Apart from the simulation exercise, participants also worked through a number of group activities to reflect on presentations delivered by participants. Participants identified key points and discussed ways to improve the presentations made, drawing from respective presenters' strengths and weaknesses.