IDFR versus DiD 2012 in Friendly Futsal Game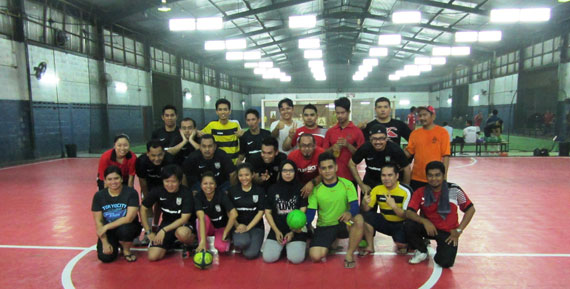 A friendly futsal game between staff of the Institute of Diplomacy and Foreign Relations (IDFR) and participants of the Diploma in Diplomacy (DiD) 2012 course was successfully organised by IDFR's Sport and Recreational Bureau. The game was recently held on 19 September 2012 at the Samba de Futsal's new branch in Segambut to promote unity and friendship through sports as well as to inculcate a healthy lifestyle amongst the staff of IDFR and DiD 2012 participants.
The IDFR team was represented by its officers and supporting staff who went all out to outdo and outrun the DiD 2012 participants. Though no prizes were up for grab that evening, spirits were high and a sense of camaraderie was strongly evident in both the teams. The game ended with a draw (7-7) as both teams were made of equally strong and highly skilled players. Not wanting to be left behind, lady officers from IDFR and DiD 2012 also joined in the fun and played futsal against each other to further strengthen their already strong bond established for the past five months.