Commonwealth Day 2013 - "Commonwealth: Opportunity Through Enterprise"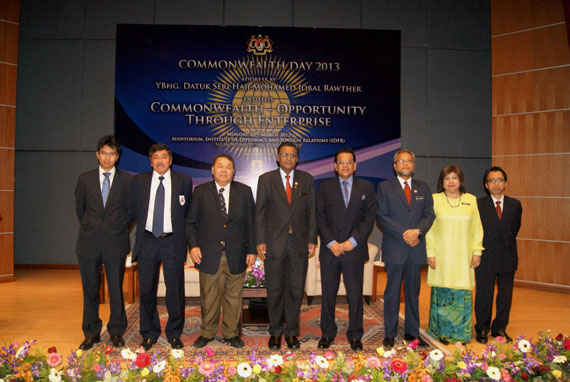 A Forum was held at the Institute of Diplomacy and Foreign Relations (IDFR) in commemoration of the Commonwealth Day which is in its 36th installation this year. The Commonwealth Day has been celebrated annually on the second Monday in March throughout the 54 independent nations of the Commonwealth since 1977. This year's Commonwealth Day commemoration is themed "Commonwealth: Opportunity Through Enterprise".
The forum, organised by IDFR, was opened by YBhg. Dato' Selwyn Das, Deputy Secretary-General of the Ministry of Foreign Affairs of Malaysia. Subsequently, YBhg. Datuk Seri Mohamed Iqbal Rawther, Chairman of the Malaysian Institute of Management delivered the keynote address. Over 200 participants attended the forum comprising officials from the Ministry of Foreign Affairs, members of the diplomatic corps, representatives from think tanks and non-governmental organisations, academicians and IDFR course participants.
Malaysia places great importance in its continued efforts to unlock abundant opportunities through enterprise and the need for innovation to flourish. To create these opportunities, various areas such as education, innovation, youth empowerment and human capital development should be further rejuvenated in a collective manner, be it at the national or international levels.
Ranging from the most developed to the least developing nations, it is believed that the Commonwealth will continue to be a platform for all of its member nations to thrive through unity by creating opportunities across geographical barriers, nurturing the youth and encouraging collaboration for a better future.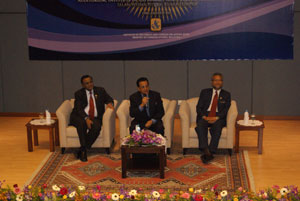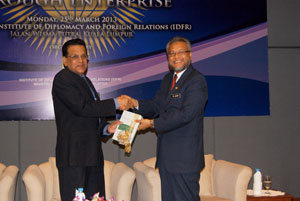 Reported by Sara Othman
Diploma in Diplomacy (DiD) 1/2013 Participant