Diploma in Diplomacy 2012 Graduation Ceremony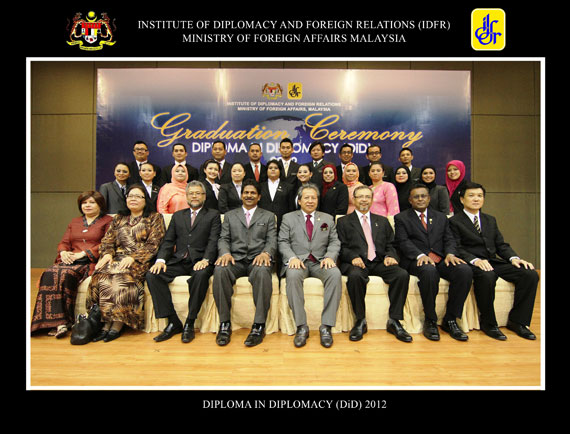 The date 8 October marked the end of the six month programme, Diploma in Diplomacy for the year 2012. The programme is conducted annually by Institute Of Diplomacy And Foreign Relations (IDFR) for junior Malaysian diplomats who have been in service for a minimum period of two (2) years. Currently in its third series, the programme was designed to groom junior diplomats in areas as diverse as personal grooming and etiquette, international negotiations, public speaking and presentation skills; with the aim to prepare them to be versatile diplomats. This year, 24 participants underwent five (5) modules namely Diplomacy and Foreign Relations, Diplomatic Soft Skills, Attachments and Study Visits, English Language and Foreign Language.
In addition, foreign participants also partook in a two-week long Regional and International Affairs module. For this module, 13 junior diplomats from 9 countries namely Australia, Brazil, Egypt, Laos, Namibia, Qatar, Ukraine, United States of America, and Uzbekistan participated.
The Graduation ceremony was made more meaningful with the presence of Yang Berhormat Dato' Sri Anifah Hj. Aman, Foreign Minister of Malaysia, Yang Berhormat Senator A. Kohillan Pillay, Deputy Foreign Minister of Malaysia, Yang Berbahagia Tan Sri Mohd Radzi Abdul Rahman, Secretary General of the Ministry of Foreign Affairs Malaysia as well as other distinguished guests, programme speakers, proud parents and family members.
One of the highlights of the ceremony was when all 24 participants as well as the 13 international participants proudly walked on stage to receive their Diplomas, Certificates of Participation and Certificates of Foreign Language. Aside from the diplomas and certificates, IDFR also presented 4 other special awards to those who were outstanding throughout the programme.
The evening moved on to a wonderful cultural performance by the participants who enthralled guests with a rendition of exciting songs and dances.