International Day of Solidarity with The Palestinian People
Special Luncheon Address By
The Honorable Dato' Sri Mohd Najib Tun Abdul Razak
Prime Minister of Malaysia
3 December 2012
Dewan Perdana A, Putrajaya International Convention Centre (PICC)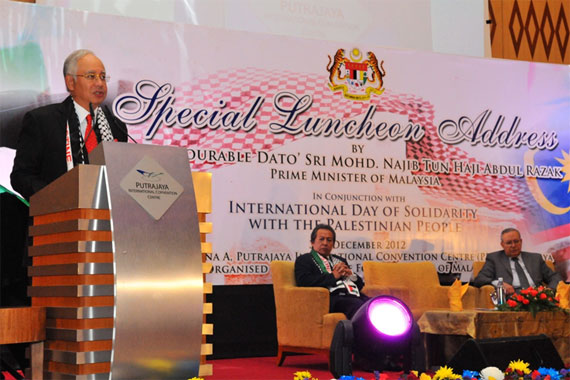 A special luncheon was organised by the Ministry of Foreign Affairs in conjunction with the International Day of Solidarity with the Palestinian People on 3 December 2012 at Dewan Perdana A, Putrajaya International Convention Center (PICC). The luncheon was addressed by Y.A.B Dato' Sri Mohd Najib Tun Abdul Razak, Prime Minister of Malaysia. He also announced that Malaysia will continue its commitment to support the Palestinians by donating US$1 million (RM3 million) to the United Nations Relief and Works Agency (UNRWA) for Palestinian refugees. The donation would be used to help refugees affected by the Israeli military aggression in Gaza.
The Day of Solidarity is observed by the United Nations and member countries on or around 29 November each year. The Solidarity Day provides an opportunity to create public awareness and greater understanding on the fact that the question of Palestine remains unresolved and that the Palestinian people are yet to attain their inalienable rights as defined by the United Nations General Assembly, namely, the right to self-determination, the right to independence and sovereignty and the right to return to their homes and property.
His Excellency Dr. Abdullah Abdullah, Deputy Foreign Relations Commissioner of the Palestine Liberation Organization (PLO) had also delivered a speech. Also present were YB Dato' Sri Anifah Aman, Minister of Foreign Affairs of Malaysia and Palestine Ambassador to Malaysia, Abdelaziz Abughoush.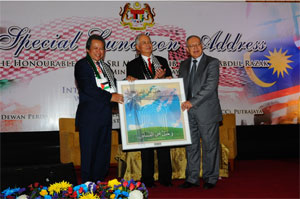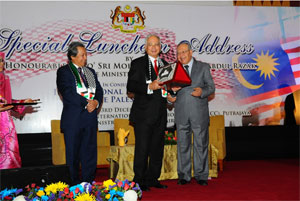 Reported by : Rafizah Zahri
Academic Studies, Research and Publication Division