Forum on Australia's Multicultural Identity in the Asian Century
The scale and pace of Asia's development has been remarkable with profound implications to the world including for Australia. Australia being located right among the Asian countries in its effort to seize the opportunity of becoming a more prosperous and resilient nation from the uprising in the Asia, has established what had been termed the 'Asian Century'. With the embodiment of diverse cultural, ethnicity and religions, Australia encourages and fosters multiculturalism which plays a role in ensuring the success of the Asian Century.
To discuss the issue of multiculturalism in the Asian Century, Mr. Waleed Aly, Lecturer in Politics, School of Politics and Social Inquiry, Monash University, Australia delivered a Forum on "Australia's Multicultural Identity in the Asian Century" at the Institute of Strategic and International Studies (ISIS) Malaysia on 30 April 2013.
Mr. Waleed Aly compared the nature of multiculturalism in the United States of America (US) and the European region with Australia. The US practices a nation state and the idea of individual liberty while the European region experiences parallel-mono culturalism. Australia which fundamentally is a new nation founded on a huge number of immigrants who are distinctively non-European, on the other hand, becomes a multicultural society without having to try hard and it evolved organically. People can relate themselves as Australians and at the same time not compromising their individual identity. Australia has created an environment where they are not being divided into social grouping and people can embrace their dual-identity.
In this Asian Century, Australia will let its identity shine through and it is also slowly evolving in having representation of the real multicultural society of Australia in the government institutions, sports and other outlets.
IDFR was represented by Ms. Khairul Bariah Che Amat, Assistant Director of Public Affairs Unit.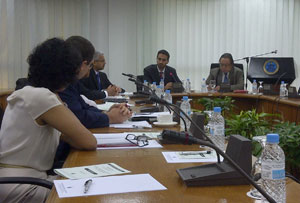 Reported by : Khairul Bariah Che Amat
Academic Studies, Research and Publication Division