SEARCCT's Looking Back Lecture Series 1/2013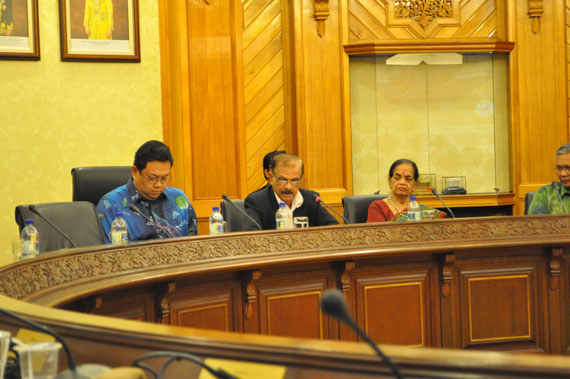 The Southeast Asia Regional Centre for Counter-Terrorism (SEARCCT), Ministry of Foreign Affairs, organised the first of their Looking Back Lecture Series for 2013 this morning, 23 May at IDFR.
The title of the lecture was Search and Destroy: The Experience of VAT 69, delivered by Datuk A. Navaratnam, former member and first commandant of a special forces group named Very Able Troopers (VAT) 69.
In his lecture, Datuk Navaratnam related to the audience some of his troops' experiences, being involved in counter insurgencies operations and combating communists in the deep forest of Perak, Pahang and near Betong. He also shared several anecdotes with us. His lecture based on personal experience was a real eye-opener and the audience, who came from various backgrounds including the police and the armed forces, took the opportunity to learn from his experience during the question and answer session.
Reported by : Noraini Awang Nong
Academic Studies, Research and Publication Division