Malaysian Technical Cooperation Programme (MTCP): Crisis Management For International Participants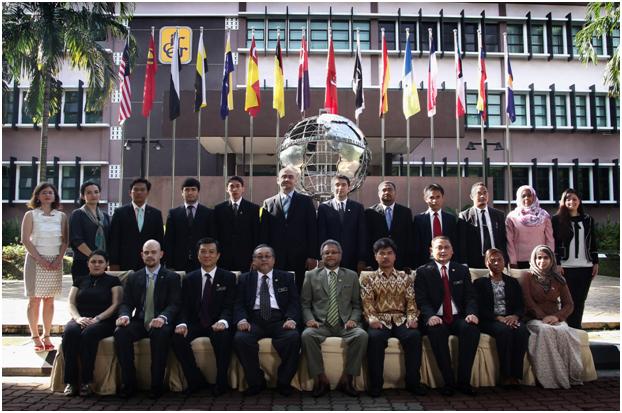 The Crisis Management Course International Participants was successfully organized from 3 – 21 June 2013. Sixteen (16) officers participated the course namely from Albania, Azerbaijan, Cambodia, Egypt, Jamaica, Lao PDR, Mexico, Oman, Palestine, Papua New Guinea, Philippines, Sudan, Tajikistan, Timor Leste, Turkey And Uzbekistan. IDFR has also achieved another milestone because it was the first time IDFR received participation from Jamaica and Mexico.
The three weeks course, made possible under the Malaysian Technical Cooperation Programme (MTCP) focused on the topic of crisis management. The main objective was to build and increase the participants' knowledge and awareness on theories, practical approaches and techniques in crisis management. The participants were exposed to the theory of crisis management, theory of forecasting crisis management, management and strategic thinking of crisis management. Apart from those, issues such as energy crisis, human trafficking, food and commodity, media, economic diplomacy, humanitarian assistance, arm conflicts, environment, trans-boundary crimes and energy crisis were also covered during the course.
A number of study visits were also organised which included visits to the Ministry of Foreign Affairs Malaysia, Putrajaya, Malaysian Peacekeeping Training Center in Port Dickson, Iskandar Regional Development Authority and the Southern Region Malaysian Maritime Enforcement Agency. The participants had also the opportunity to learn more about Malaysia's culture, customs and traditions through their study visit to the historical city of Malacca.
Overall, the participants had participated positively and made substantive interactions with the selected distinguished speakers. Among the comment made was, "the course had provided the platform for the exchange of ideas and experience in crisis management" and "the course was very informative and educational".
On the last day, the Certificate Presentation Ceremony for the Diplomatic Training Course was held at the Berjaya Times Square Hotel. The ceremony was graced by YBhg. Dato' Ku Jaafar Ku Shaari, Director-General of IDFR. Also present were the Ambassadors from Azerbaijan and Lao PDR, other diplomatic corps, and representative from the Malaysian Technical Cooperation Programme (MTCP) and IDFR officers.
Reported by : Mohd Farid Mohd Arif
Training Division